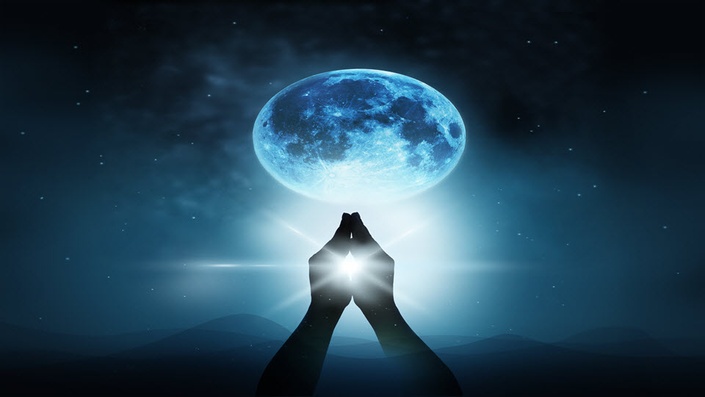 Full Moon Ritual Release
Harness the Power of the Full Moon to Release all that no longer serves YOU
Welcome to Full Moon Ritual Release Process!
Dust off your witches hat and pull out ancient pagan memories buried in the recesses of your mind and use that energy to release ways of being that no longer serve you. Break the ties that bind you to repeating patterns and paradigms that are harmful to your happiness and well-being. Set the stage to call in the mighty power of Creator, the Masters, guides and angels to assist you on this journey to cleansing your soul and energy field to give you the best possible release for your highest good at this time and space in your life.
In this introductory course you will gather together with like-minded people, experience the full moon ritual release with others and feel what it's like to have others hold space for your release as you hold space for theirs. Experience the power of when two or more are gathered the energy that is created while utilizing the organic free-flowing synergy of the pulling of the moon to release all manner of emotional baggage that may be subconsciously attached to you. This is your chance to let intentionally it all go!

You will discover the power of your conscious mind to connect with deep and hidden parts of yourself that never have a chance to be dealt with in this manner. You will realize the life changing power of using the Moon, water and fire amplified by the cohesive and channeled energy of others to cleanse your spirit and refresh your soul.

"Taking this training program was a priceless experience. Personally it gave me confidence and a greater level of satisfaction with my life. Professionally, it gave me practical skills that my seven years of post-secondary education did not provide. This program has renewed my passion for humanistic work and given me an unbelievable amount of motivation to make my dreams come true. Thank you!"
- Gemma Zinkan, M.A. Counselling Psychologist
Welcome to College of Professional Hypnotherapy Online Learning Centre.
The Resistance to Results Intensive is part one of Basic Hypnosis. It is an introductory course where you will the opportunity meet like-minded people, experience hypnosis and determine if a career in hypnotherapy is right for you, risk free.
You will discover the power of your subconscious mind, dispel the myths and misconceptions of hypnosis, learn self-hypnosis, realized the life changing power of the 21 Results Principles process using powerful, experiential techniques.
Students will:
Discover the secrets behind how stage hypnosis actually works.
A fast, simple way to resolve deep routed traumas.
How hypnosis can break habits in a matter of minutes.
Who can and can't be hypnotized.
Learn how the 21 results principles for living will change the way you think about your life, transform how you have thought about how life occurs around you and set you free to create possibilities you have never even imagined.
Learn the theory and physical nature of the mind, the connection to all results in life.
Experience live breakthrough changes in yourself and others with powerful intuit, therapy, techniques and coaching.
Go from stuck and resistant to focused and goal oriented.
Free yourself from resentment from anything that has faced you and learn how to take action and forgive freely.
Have the opportunity to eliminate physical manifestation issues you may be experiencing and create miracles in your life.
Learn simple profound therapy and performance enhancement techniques.
Learn supportive language that is affirmative, accepting, encouraging and empowering, how it can re-shape situations or relationships that are causing stress and anxiety.
Take the 7 day personal challenge for transforming the way you view life.
Existing Therapists will:
Learn how results therapy techniques and hypnotherapy can be incorporated into your existing practice for powerful results.
Discover how hypnotherapy can increase your existing business income.
Pre-Requisite:
Not Required
Number of Hours:
Live Hands-On Practice = 16
Online Theory Training = 4.5
Question & Answer Webinars = 3
Extra-Curricular Assignments = 10
Total Credited Hours = 31.5
This Course Includes:
Downloadable student training manual
Online classroom theory
Formal in-class training
Basic Steps to Self Hypnosis MP3
Live webinars for questions and answers
Written and demonstrated examinations
Course Completion:
Ideally students will complete this course within 2 months, however you have up to 2 years to fully complete the requirements.
Here's What Past R2R Intensive Students are Saying…

"I've been flapping my gums to anyone with ears about this course. I loved it! I feel even more open after having learned so much and have gained a new level of understanding of things I was certainly not aware of before this course. I look forward to making events unfold in my life and will absolutely be pursuing more education through CPH!" - Cory Fehr
"Before taking the Resistance to Results Intensive I had been monitoring my blood pressure as it was on the high side and I was resistant and very leery of taking any drugs to stabilize it. After attending the course I noticed that my blood pressure had come back to the normal range and that frequent checks indicated that it was now reading in the normal range most of the time. I also found it very beneficial to observe Jennifer Alexander as she facilitated the course. Her intuitive and insightful style in dealing with issues and different people was amazing to watch. I have learned so much from Jennifer and have benefited immensely in my everyday life by incorporating the many tools this course gave me." - Dave Robertson
"I had been suffering from debilitating foot pain for years; there was nothing the doctors could do. By the end of the course the pain was gone and has stayed away for over 6 now." - Una Julien
"I am still buzzing and excited after the great course." - C. Wimpney
"Wow, I don't really know where to begin... After the introductory course I felt like a million dollars, and even now two weeks later I still feel great! I've felt a huge increase in confidence and it's already helping both of my businesses! - Chad Reitsma
"Great course! Went surprisingly deep in being able to do hypnosis in just 2 days." - Brad Mooney
"BEST DECISION I HAVE EVER MADE!" - Sarah Wettberg
"This course was exactly what I desired it to be!!" - Elaine Schiele
"I found no comparison in any other facility." - Manon Mitchell
"My experience went beyond my expectations." - Pat Sullivan
"After attending I felt confident and excited about life!" - S.Hussey
"Having hypnotherapy done on me was incredible! Things I thought were long resolved came back during the session and were processed internally in a way that made perfect sense to me. Powerful gut wrenching emotions surfaced and were released quickly. I had an inner sense that these issues were now really
behind me and experienced a feeling of lightness and peace."
- Carol Fosty, Registered Social Worker
"Hypnosis has not only changed my life it has given me a whole new life."- Sandra Auty
"This course has helped me gain the peace and confidence in myself to know I can heal my body."- Helen Jacobs

"This is one of the best schools out there. I see practitioners from many fields in my work, and the students from this school stand out among the best. They are very proficient in their work, have an excellent base of knowledge and very successful in their field."
- Luann Horobin
Your Instructor

Leah first discovered the power of numbers through studying numerology under the guidance of mentor, Clayne Conings, a philosopher of Kabalistic. She dedicated her self with an obsession that soon brought her to a level of expertise and skilled at name and birth chart analysis. She discovered that numbers hold a hidden power that when tapped into can bring the person whatever their minds can conceive of, all they need to do is align their names and focus their attention on Infinity 8 and the rest unfolds as directed by their focused attention.

"What I learned in these courses exceeded my expectations. I have taken other certification courses and the training I received went far beyond anything I have previously experienced. This program supplies the foundation, building blocks and resources to build a thriving career."
- Susan Allyson, Path to Potential